8/17/2004
This Is Starting to Get Fun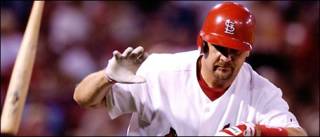 Larry Walker Caps Off A Six-Run Cardinal's Eighth
Inning With A Grand Slam, To Give
The 'Birds A 7-2
Victory Over The
Cincinnati Reds, On A Downtown Tuesday night
After tonight's come from behind win, the St Louis Cardinals now have a major league leading 78-40 record.
It's starting to get a little ridiculous here in the the StL...it's as if this ballclub, much like Parker Lewis, just can't lose.
The absurdity really started to set in for me, when in late June, my buddies and I went to my family's lake house in Indiana.
It was myself and six Cubs fans gathered for a weekend of fishing, grilling and talking smack. But, as they got set to watch their precious Cubbies and gathered nervously around the TV, only to see the Little Bears lose one to the Cardinals and drop two of three to the South Side White Sox...I was able to relax carefree, for even though we could not pick up Fox Sports Midwest, I was fairly certain the Cardinals would not lose.
They didn't.
They beat the Cubs on Thursday and swept the Royals over the weekend.
Since that weekend, in late June, the Redbirds have gone a remarkable 32-11, to go 15 games up over the Cubs in the National League Central.
My roommate, Matt, has developed a back-of-the-mind syndrome, which I had a few weeks ago, thinking back to that 2001 Seattle ballclub, who won all those games, but came up lame in the playoffs.
I lost that fear a few nights ago when I noticed how well the Cardinals matched-up against the Braves and the Dodgers. Every position to position match-up has the Cardinals with at least a 7 man advantage in the field, even with starting pitching, and ahead as far as bullpens are concerned (granted, Izzy is no Gagne nor Smoltz...but neither Atlanta's, nor L.A.'s bullpen could hold the Cards long enough to get to the closer.)
This team reminds me more of the '98 Yankee's, who steamrolled their way to a World Series Title. Just so long as Ray Lankford doesn't have to play the role of Darryl Strawberry and get cancer.
This is my first summer actually living in the Lou, so maybe I'm a little naive on how this city feels during the pennant run.
I was too young to remember the crown in '82, I remember '85 and '87, but not well enough to write a dissertation on either of them.
I was down here in '96 and the place was
maybe
half as electric as it is right now. Maybe the 'Birds were out of town that week (they were NOT, fyi.)
I was here for every playoff game in 2000. It was fun beating up the Braves, cheering for Will Clark, and watching Rick Ankiel throw away his career, but when the NLCS came up, we were over-matched by the Mucking Fets.
Thanks to the terrorists, I was not able to catch firsthand the Birds losing to the Diamondbacks in '01...I do remember watching it at a bar in Pensacola, Fl, thinking to myself that the best team had won, unfortunately.
The 2002 season, I thought, should have been the year for St. Louis. After the double stomach punch that was Jack Buck and Darryl Kile both passing away over the summer, I thought a little Karma payback was in order. But, after beating Arizona in the NLDS, we were again overmatched, albeit this time by the Giants of San Fran.
I sincerely do hope this is fate. Anyone who knows me well enough, knows that a big part of me deciding to go to school outside of St. Louis was decided by the fact that the Cardinals play here.
Lately, a few times a day, I stop and think about how great this team is and what they're capable of doing come October, and for those few moments...
well, welcome to goosebumpville, population, me.
Comments:
Your blog is great! It's hard to find blogs with good content and people talking about st louis cardinals these days! I have a secret
st louis cardinals exposed
if you want to come check it out
I found a lot of useful info about st louis cardinals on your blog - thank you. I also have a new
st louis cardinals tips
blog - please click over and have a look
Help me Dude, I'm lost.
I was searching for Elvis and somehow ended up in your blog, but you know I'm sure I saw Elvis in the supermarket yesterday.
No honest really, he was right there in front of me, next to the steaks singing "Love me Tender".
He said to me (his lip was only slightly curled) "Boy, you need to get yourself
a shiny, new plasmatv
to go with that blue suede sofa of yours.
But Elvis said I, In the Ghetto nobody has a
plasma tv
.
Dude I'm All Shook Up said Elvis. I think I'll have me another cheeseburger then I'm gonna go home and ask Michael Jackson to come round and watch that waaaay cool surfing scene in Apocalypse Now on my new
plasma tv
.
And then he just walked out of the supermarket singing. . .
"You give me love and consolation,
You give me strength to carry on "
Strange day or what? :-)
Post a Comment
<< Home