11/27/2004
Trojans v. Irish, 2004.
I know I promised you a ND-USC preview. I did. I know I did. But, once again, Al Fritz is breaking promises. Here's why:

For the last 24 years of my life I have placed a great emphasis on sports, only to see a few good things happen ('97 Packers, '91-'98 Bulls, U of Illinois beating U of Missouri in basketball for like 37 straight years now, and of course; Jimmy Chitwood leading Hickory past South Bend in the 1952 Indiana High School Basketball Championship.) Normally, whenever I get really excited about a sporting event my team fails. Seriously, it's like fucking clockwork.

So I'm going to pretend to not be excited for tonights matchup. I'm going to watch with an obvious vested intrest towards the Irish, but I'm not going to get all hyped up or anything. I'll go ahead and ignore the fact that two of ND's wins have come against top ten teams. I'll overlook the fact that Brady Quinn is finally coming into his own (and the fact that he's a dreamboat.) I'll even forget that ND's a scrappy bunch of overacheivers who would love to play the spoiler to one of their biggest rivals.

I'll even try to not think about the fact that an ND win would clear the way for Auburn to play in the BCS Championship Game, making things right in the world.

Nope, I'm just going to drink my wine and watch a little of the old pigskin.

Prediction: USC 48 ND 3


11/23/2004
Mmmmm...Fall Break
I'll be posting rather randomly this week while I stay at my parent's house rotating between dentist appointments (all together now...."THANK YOU PEPPER LOUNGE") and family meals.
I will hit you all up this week with a preview of this weekends Notre Dame v. University of Southern California football matchup...and maybe one more column. We shall see.

But, I will leave you with a few sports notes:

-As much as I dislike the sport of football (if the Green Bay Packers folded and ND lost their football program, I would never watch another football game again) the onside kick is the third most exciting play in sports. The top two?

1) Basketball: 20 seconds left to play on the inbound pass...game tied...and you know who's goning to take the big shot...will he take it against heavy presssure, or will he pass it to the open man...and will he knock down that shot? (example: Game 6 of the 1997 NBA Finals. Obviously Jordan is going to take the shot...heavy pressure and he kicks the ball to Steve Kerr in the corner and he fires...The Chicago Bulls have won the 1997 NBA Championship!) In my opinion Jordan's best play. It shows the fact that he made his teammates better (so, so much better) when he was on the court.

2) Baseball: Down by one, runner on third, two outs, bottom of the ninth. All the pressure is on the pitcher; or all the pressure is on the batter. This is the one case in sports where the glass is both half empty and half full. It's all on how you look at it. Either way, it's winner take all. Why baseball is the best sport? It is always, at it lowest element, one on one. Pitcher v. Batter.

Anyhoo...my buddy Josh wrote me from Iraq today and asked me about my thoughts on the NHL lockout. I had honestly not thought twice about hockey in the last few years, but here is what I fired back at him with:

Subject: Hockey...it's really just full contact Curling

Truth be told, I don't think there will be an NHL again. There might be a hockey league named the NHL again, but it won't be the same one that we grew up with.

NASCAR has already replaced it as the country's fourth sport. With a strong US showing in the 2006 World Cup (which I plan on attending in Germany, I hope to see you there as well) and the fact that more and more kids start playing it every year, soccer will easily pass hockey in popularity.

The demise of the NHL is the league's fault. They moved teams from great, historic hockey locations to warm, exotic locations where the last thing anyone wants to do is go to a hockey game (minnesota to pheonix as an example.)

They also expanded well beyond their limits. Columbus, Ohio had a team for christsake! A league with that great of an infrastructure is going to have a hard time generating revnue and turning a profit.

As for the players themselves, they are now back in their respective homelands playing for more appreciative fans and still making a sizeable income. Would you really care about coming back to the States?

The true hockey fans in America don't seem too upset. Sure they miss their team, but there is other hockey to watch. College hockey has one of the best tournaments out of any college sport (The Frozen Four is the most under-rated sporting event in the United States.) And when Minneapolis-St. Paul lost the North Stars, the good people of Minnesota really weren't that upset. They had great youth, High School, and College hockey programs to watch. If you really want it, it's not to hard to get your hockey fix in America.

Sure, they'll be an NHL again...but will people really care? It'll take another Gretzky caliber player (preferably from the US) to get hockey back into mainstream America. It really hasn't been that mainstream in 10 or 15 years, anyway.

So, anway that's my take. I hope it didn't suck. Happy Holidays everyone.


11/20/2004
Josh And Al Have Really, Really, Really Too Much Time On Their Hands
Allright...
My buddy Josh and I frequently send e-mails about sports to one another, so this College Basketball season we have decided to document these e-mails with a little thing I like to call:
Josh and Al Really, Really, Really Have Too Much Time On Their Hands
So, if you don't like College Basketball, don't read these columns. If you do like hearing about stupid stuff that I do...check out
http://lifeiniraq.blogspot.com
and learn how I got my front two teeth knocked out on Friday night!
So here's the coorespondences: Josh is in
red
, I'm in
blue
Enjoy.
Josh-
It's the start of the College Basketball season, so I think we should start our commentary by talking about the best basketball conference in the country.
As a side note- I hate the East Coast Bias. I hate Duke Vitale, Gay Bilas, and every other pundit that looks down upon any college program west of North Carolina. But as much as it pains me to say this...the best college basketball confrence this year is the ACC.
You're looking at a confrence that has six (six!) teams with the ability to make a run at a national title. Duke, G.Tech, Maryland, NCSU, UNC, and Wake all are fucking loaded.
But who's the best team in the best confrence?
My pick:University of North Carolina:
As strange as things have been up in Chapel Hill this off-season, there is too much talent for this team to fail. Granted, Rashad McCants is a bit of a loon (5 to 1 says he ends up with the Portland TrailBlazers next season. Let's make this happen. Just for comedies sake) but he did average 20 ppg last year and he will again. Even if he's playing in a so called "jail."
And as much as I dislike Sean May for not going to Indiana and playing in front of his hometown, the kid is a stud. He's athletic and chubby. And as Sir Barkley taught us, that is basically the math formula for equalling to be a good rebounder.
Since this years college crop is full of promising point gaurds, UNC's Raymond Felton has slipped quietly under the radar as a great college PG. He averaged over 7 assists per last year as a sophmore and did so in the nations premier confrence. Could you ask for anything more?
Players aside...Roy Williams is at the helm. Maybe he's not as proven as some other college coaches when it comes to winning the big game, but, really, he doesn't exactly make you nervous, now does he? Dean Motherfucking Smith (who UNC's arena is named after for christsake) lobbied for him to take the gig. I'll take god's recomondation any day of the week...twice come sabath.So, UNC is the Uno in my deck. What you got, homie?
______________________________________
Sorry man, I have been pre occupied. Trying to do some research on basketball, biggest problem being that I have to read everything, they play the fucking nba on afn and not much ncaa. This is very upsetting. However, I am going to take, even though I am very skeptical about this due to the hype they are getting, but they sound awesome from what I have read. Wake. My pick for this season is going to be Wake Forrest.
What is the deal with Pedro, is he leaving Boston, I am trying to keep up, but my lack of resources are proving to prevent me.
________________________________
As far as pedro - Yankspedro sat down with george yesterday. it is being described as being very oediphilous, where as pedro tries to (after tipping his cap) hook up with a parent. As far as i'm concerened boston can just let him go...wherever that may be to..he's proved his worth over the last ten years but he's not the same pitcher he once was. Sianara. But, of course, if he goes to the yanks he'll be the winning pitcher in game 7 of next years ALCS.
__________________________________
Yes, he will, this is very disheartening news. Hell, this could start another fucking curse. This news may help me get my mind back on track. Ever since the WS victory, my mind has been jumbled, and I haven't been able tothink about any one thing for more than five minutes. Although it could also be my sobriety, which is abundant.
I jotted down some stuff today as I was doing some B-ball research here itgoes.
-1st off this is going to be a year dominated by the premier conferences like the ACC, Big 12, and Big East.
-there will be experimentation at the beginning of the season with wider lanes and more distance for the three point line
-my opinion who so ever emerges at the top of the ACC will go on to the national championship, and I wouldn't be surprised if that winner came from tobacco road. I'm convinced that there is to much hype for it to be Wake, and due to it being college ball anything is possible. North Western could come from nowhere as the sleeper, they have done it in football why not basketball too.
-Wake Forest, the preseason conference favorite, plays possibly its toughest rival, North Carolina, only once, on Jan. 15 in Winston-Salem. The Demon Deacons also get ACC tournament champ Maryland only at home. N.C. State doesn't have to go to Duke. The Tar Heels escape a trip to national finalist Georgia Tech.
-my preseason list of teams to watch is as follows: Wake, UNC, Illinois, Kansas, and North Western (towards the end of the season). Also, I am picking NC State as a dark horse for the ACC due to the changes in the conference and scheduling.This is all I have so far today
_____________________________________
NC State is a great pick as a dark horse and also a great segway for my next topic.
My pick for ACC Player of the year: Julius Hodge, NC State Wolfpack
Yes, Chris Paul from Wake is a much better player and Hodge may or may not even start if he was at UNC...but nobody in the ACC is going to do more for their team than Hodge will. I would not be surprised if this kid ends the season with a 25/10/5 average. Also he's been in college longer than Jeremy Piven's "Droz" in PCU.
Whatchagothomie?
__________________________________________
I agree, Hodge will do the most for his team as opposed to Chris Paul for Wake and Jawad Williams for UNC. He has the intangibles much like Pedro did for Boston. Pedro wasn't the best pitcher but the team followed him to victory
.
_________________________________
timeout.
The Boston Red Sox followed three things...
1) Nelson DeLarossa. I'd follow that creepy little guy anywhere. He's bound to attract chicks.
2) A bottle of Jack Daniels. As a functioning alcoholic, I found it encouraging that a team that pregame shots of Jack could win the World Series
3)Curt Schillings bloody sock. 'nuff said.
I submit to you that Pedro may have just been along for the ride (w/ Alan Embree of course)
Now get that dust off yo' shoulder
___________________________________________
I was just stating an example of an intangible, and Pedro was the first name to pop into my head
_______________________________________
allright...intangibles are important.
As long as we can agree that pedro is now more symbollic than talent.
______________________________________________________
Alright you dirty hipster. I jotted down some notes last night on the ACC
Since I can't really watch to many games I have to rely on espn.com articles and Sports Illustrated. So this is what I have made out of it all thus far.
-UNC will need to drastically improve its defense from last year, They allowed the second highest field goal percentage in the conference.
-Felton was guarding Duhon (duke) when he hit his buzzer beater to win the game. Jack Jarret of Georgia Tech was guarded by Felton when he beat UNC in the final second. Felton was also guarding Galloway of FSU when he hit the last second shot to send the game into overtime, leading to the FSU victory.
-Wake had the worst defense in the ACC. However Chris Paul is convinced thatthe team is a changed team, defensively. The teams overall well being rests on the shoulders of Paul and his abilityto motivate the front line.
-Julius Hodge has packed on 15 pounds of muscle since the end of last season.
-Maryland is a young team with a lot of ambition. This teams success depends on Travis Garrison's inside ability. He has a soft touch on the ball, but has in the past been unsure of his inside game. This has caused him to be timid on the boards. Since they lost Jamar Smith the second leading rebounder in the ACC has departed the Terps, Travis is going to have to step it up.
-the ACC is tighter than ever at the top, and the Yellow Jackets will need every edge they can muster. They have at least three:
1) Tech defended better last year than the two ACC teams ranked ahead of it this year, North Carolina and Wake Forest
2) Schenscher is the only true center among theleague's elite teams
3) the Yellow Jackets have more starters with NCAA championship game experience (four) than any other ACC team.
_________________________________________________
Joshie-
I hate hangovers.
Also, I had forgotten that G. Tech had title game experience. It seems so long ago. I think every (higher-echelon) team in the ACC has pretty good experience.
This may very well be the year that two ACC teams meet for a national title. And if that happens here in my backyard...I'll be uber-pissed.
Now, Back to lying in bed playing ESPN NBA 2K5.
Damn beer.
Al
PS. Kudos on the Felton-big shot scoop. The power of three leads me to believe that it's not a coincidence.
11/19/2004
On A Thursday Night, I Receive My "Class 3" Hipster License
To begin:
It's an average Thursday night in St. Louis, Mo. Average in all aspects but one:
Instead of me sitting on the couch watching "The O.C." with the roommates, we're out at The Pageant watching Ryan Adams rock, depress, and serenade the crowd for an entertaining evening.

When I walked into the venue, my ID was looked at, my ticket was scanned, and I was patted down for any and all fire-arms which might have been on my person.

The doorman said to me "Well, you're at a Ryan Adams concert and you have extremely floppy hair, so you have achieved the pre-requisites to be a level four hipster...Unfortunately, you're wearing Doc Martins, not Chuck Taylors, so you can only reach level three of hipsterdom."

"I'll take what I can get," I replied.

Seriously, though, beside the fact that 80% of the male crowd had hair like mine, it was an awesome show. Check him out if you have the opportunity. (On a side note- he was born and raised in Jacksonville, NC...something that I did not know until he was a few songs into his set...at which time I started yelling about "Toby's", "Driftwood", and other adult institutions in Jacksonville that I know of.)

Anyhoo...the weekend is upon us and I am excited. Today is my final day of classes before...FALL BREAK! YEAH BABY! It's time to rock the fuck out! The best break this side of Spring Break and I am taking full advantage of it!

I will have some more stuffing! Yeah, Uncle Ed, get me another beer! Yes, mother, I could use another drumstick! Fuck yeah!

FALL BREAK!

Well, whether or not you have a Fall Break like I do, I hope you enjoy the weekend. Be safe, take care, and most importantly, HAVE FUN!

I'll holla back come Monday (it'll be allright.)




11/18/2004
On a Thursday Morning, I Finally Realize That I am Detrimental To The Health Of African-Americans Everywhere
To begin today's column, I must say that:

I am not racist.

(That's never a good sentence to lead a column with.)

I am not racist, but I love stereotypes. Sorry, but I do. I just can't help myself. When I see a Chinese guy eating spaghetti, I think it's the funniest thing in the world. Sorry, maybe that's just me.

And it is with that knowledge that I tell you: I am hurting the American black community. I don't mean to. But I am.
Examples:

1) I name my website after a now famous Rick James quote. Two weeks later, Rick James is found dead of (ahem) natural causes.

2) I mention in a post how Brian Randle (a college basketball player from the University of Illinois) must work on using his left hand to his advantage. Four days later, during practice, Brian Randle punches a padded wall and breaks his left hand. Normally, I wouldn't think other forces of nature were at play, but the fucking wall was padded! Does he really punch that hard? Or am I, in fact, cursed?

3) On a whim while grocery shopping, I impulsively buy a bag of "Rap Snacks" potato chips. They were Sour Cream 'n Onion flavor, endorsed by Dirt McGirt (aka. Russell Jones, aka. Big Baby Jesus, aka. Old Dirty Bastard.) Two days later O.D.B. dies of (ahem, again) natural causes. Did I, unintentionally (I swear) kill the O.D.B.? Maybe.

The lesson I have learned over the past few months:
I should not think about, write about, or economically support any black American. For if I do, the consequence may be fatal.

I apologize if I have affected (unintentionally) the lives of any of my black readers. Just be careful and try not to think about me. I'll keep you (Andrew Williams, perhaps my only black reader) out of my own thoughts, simply for your precaution.

Good luck this weekend.



11/17/2004
I Hate Barry Lamar Bonds
A few "Hump Day" observances for you to ponder while you listen to Badly Drawn Boy's "Donna and Blitzen." What's that? You don't have that song? Well do yourself a favor and pickup the "About A Boy" Soundtrack. Just fucking trust me, alright.

1) Barry Bonds won the National League MVP for the fourth straight year. I had forgotten that they even presented these awards anymore. Why don't they just go ahead and hand the award out the next time Barry doesn't win. Maybe in ten years, when Barry retires, Albert Pujols can finally win an award.

2) Another Bonds note. His head is huge. Just fucking huge. It's fun watching old clips of him with the Pirates compared to him now. He was a speedy outfielder with surprising pop in his bat. A solid 30-30 guy and that's about it. Now...He looks like the Michelin Man. No, he doesn't use steroids. Never has, never will. Why would you even bother to ask?

3) Congratulations to Quinn Snyder's U of Mizzou Tigers squad on a tough win over perennial powerhouse Brown University. Mizzou beat a team who aren't allowed to give their players scholarships by only eight points. Perhaps this is a testament to the recruiting power of that old Ivy League institution...or maybe it just shows how bad things are getting in Columbia, MO. The Illini are going to kick their ass...and I can't wait.

4) Congrats also (albeit this time seriously) to Joe Sanchez and the rest of the crew over at "The Sanchez Report" on their 2000 hit. It's hard to believe that a little website started purely to make fun of its readers could last for an entire year and for 2000 visitors, but, sure enough you pulled it off! My hat's off to you, sir!

Ryan Adams concert tomorrow night at The pageant...the weekend starts one day early this week!

Late.


11/16/2004
Someone To Make You Feel Better About Yourself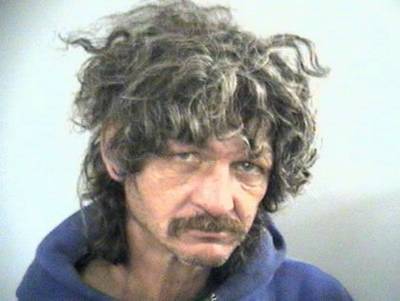 "Why,yes, I could use another round, my good man"
Gary Wayne Rogers of Louisville Kentucky has passed away.
I'll give you a minute to grieve...
Now, why should you care that G.W.R. is recently deceased, you ask? First of all, how about a little compassion you heartless son of a bitch. Secondly, this is a man who was once arrested 96 times in one calender year. That's once every 3.8 days.
In my lifetime I have been arrested, on average, once every 8,860 days and my parents still won't let me hear the end of it.
Now you still may not care the Gary Wayne is no longer with us (by the way, he died by burning himself outside of U.K.'s Rupp Arena...Was Jimi Hendrix's "Fire" playing in the background? Maybe) but when you've been arrested as many times as old G.W. has (once for criminal litering!), you start to garner a small cult following. Especially when you take mug shots like these:
http://jail.lfucg.com/services/offenders/offenderdetails/default.asp?inmateid=7396&inmateimage=R158023.JPG
Enjoy.
11/15/2004
A Disturbing (Yet Fun) Time killer
*If the subject of suicide is something which generally offends you, don't read this*

HA! My first advisory warning! First of all, to say in advance...Do not kill yourself.
Anyhoo...I was watching Bad Santa last night and there was a scene where ole' Billy Bob Thorton was sitting in his garage with the car running, trying to end his sweet little life. I asked the roommates what they would have playing on the stereo if they were in that situation. The answers were: Radiohead, Pink Floyd, and "Panama" by Van Halen.

Now, this is a subject that my buddy Daryl and I used to discuss at quite some length...Which couldn't have helped the fact that a lot of people (incorrectly I assure you) were convinced that he was going to murder them and then take his own life. Well, it hasn't happened yet. I repeat, Yet.

Back to the suicide/music thing. If you are going to kill yourself, I think it would be appropriate to have a particular song playing in the background. Something playing on repeat, preferably hidden (so that the entire time the authorities are cleaning up your mess, the song is playing), and something which would leave whoever finds you so rattled that they would rather drink stomach bile than hear that song ever again.

Daryl and I found that there is no one perfect suicide song. There are lots of ways to kill yourself...And there are lots of songs....So lets match up what songs should be played while you kill yourself:

1) Hanging - "No Surprises", Radiohead
2) Slitting of the wrists- "Old Man", Neil Young
3) Russian Roulette- "Baby I Love Your Way", Peter Frampton (most people who listen to this song shoot themselves anyway)
4) Head in the oven- "Anyway You Want It", Journey
5) Toaster in the bathtub - "Take It On The Run", REO Speedwagon ("I heard it from a friend, who heard it from a friend, who heard it from another you've been messing around")

Now, there are many more great combos out there. Feel free to come up with some of your own, it helps to kill time (but not yourself!)


11/13/2004
Afterthoughts On Rock And Or Roll
There are some bands out there. They have names like Journey, or REO Speedwagon, or Foreigner.

You've all heard them before. Perhaps you've even found yourself playing air guitar while "JukeBox Hero" plays on your local classic rock radio station. It's okay if you have. I have,too. So has everyother red-blooded American at one point in time.

But there comes a point in every persons life when they realize that those songs, literally, are pieces of ear-crap. You eventually have to move on. And when you do, you accept the fact that Damn Yankees really isn't that great of a band.

So, I pose you this question: When those bands wrote those songs, did they know that they sucked? Did they think that they eventually might suck?

Did Tommy Shaw of Styx ever once think "This is the most predictable and trite lyric possible, lets put it with the cheesiest guitar riff of all time and call it 'Come Sail Away'?"

Were they puking as they wrote these songs? Because maybe, just maybe, they should have been.


11/12/2004
Friday's...I'm In Love
The Big Fri! Fuck Yeah!

The sun is shining, the birds are singing, and the Budweiser brewery is working overtime to pump out all the beer which I will be consuming this weekend.

Anyway, if you have access to a Starbucks, go ahead and get the Egg Nog Latte. It's better than crack. Just fucking phenomenal.

I'm going to dinner tonight at an Italian place named "LaRusso's." As in Daniel LaRusso. As in the man who single handily took down the entire Cobra Kai during the 1984 Valley-Wide Karate Tournament and went on to win the heart of the lovely Ali (Elizabeth Shue - She's the tops.)

No, I'm not getting any material together to make really bad Karate Kid jokes during dinner...why do you ask?

Ah, Friday's...what wonders will you unlock for me tonight?

I can't wait to find out


First off all, I love dogs
But after last night, my opinion might just change.
For the third night in a row, my neighbors rottweiller ("Sir Barks Allot") put on a concert that neither myself nor my roommate Matt could sleep through. So I went next door (wearing nothing more than my U of Illinois basketball shorts and abs that looks cool when I'm cold...not so cool normally, though) to tell my neighbor to please make her dog shut the fuck up. I guess hoping that my half-naked sexiness would make her do whatever I wanted her to do, I was extremely confident and I knocked on her door for a few minutes.
Alast, it was to no avail.
After realizing that she wasn't home I put a note on her windshield wiper. The note read:
Please put your dog inside at night.
Sincerely,
The City of Saint Louis
Then, today I noticed that her car hadn't moved. And then I remembered that her car hasn't moved in a few days. Which leaves me and my roommates to one conclusion:
That fucking dog ate our neighbor. And he has been barking a lot to tell us that, not only is my neighbor dead, but she was really fucking tasty as well.
We haven't seen her in a few days. I remember seeing her walk "Sir Barks Allot" on Monday. She didn't say much, but "Barks Allot" turned to me and said "BACON! I SMELL BACON!"
Later on in the evening I heard a rustling from next door and I remember hearing "Fuck bacon! I'm eating you, Bitch!"
Maybe my imagination is a little overactive. Maybe. But I haven't seen my neighbor in a few days, so explain that. Meanwhile I'll try to sleep while Kujo sits next door, waiting for his bowl to be filled with pieces of humans.
You expect me to sleep now?
11/10/2004
"Hump Day" Notes
Isn't "hump day" the best nickname for a day of the week? Actually, do any of the other days even have nicknames? Maybe I'll start calling Friday "The Big Fri." Yeah, I will. And it will catch on, too. You'll see.

Anyway, it's been a rather average week so far. Here's hoping that things pick up for the weekend (I've got the feeling that they will...I smell a *HOT* Big Fri!)

A few observations from the week:

1) The band "Iron and Wine" makes some of the coolest music I have ever heard. If you're wondering who they are, on the Garden State soundtrack (which I assume everyone owns, because they should) they play on track #11, doing a lovely cover The Postal Service's "Such Great Heights." Check them out.

2) My roomate Andy was grocery shopping over the weekend, when two guys in line ahead of him struck up a conversation. During their conversation it was revealed that they were both former Marines, at which point they did (what Andy called) "The Marine handshake."
I was in the Marines for five years. I never knew we had a handshake. Was I not taught it? If so, why not? Is it cool? Actually, it probably has rather strong homo-erotic undertones, so just keep it to yourselves.

3)Speaking of Marines with homo-erotic undertones...Josh Ellison and Joe Sanchez have combined forces (along with myself and, hopefully, Daryl Neil) to create a SuperBlog know as "Life In Iraq" (the link is to your left.) Seeing how they're in Ramadi or Falluja and I'm in Saint Louis, they'll do the majority of writing on it, but I may chime in every now and then with a view "from the home front."

Stay Tuned...



11/08/2004
This Is Going To Bug Me For A Few Days
A question that needs to be answered:

Does the fact that I like Billy Joel make me a tool?

I started wondering this on Saturday night when I was out at McGurk's (a popular local watering hole) and "Captain Jack" (a really cool song about cocaine and masturbation) started playing. My roomate Matt turned to me and said, "Here's your fucking Billy Joel, Al."

Now, Matt doesn't especially care for Billy Joel to begin with. Combine that with the fact that if I'm at a bar and in control of the jukebox, there is a 87% chance that "Scenes From An Italian Restraunt" will be played. What you end up with, is not only one pissed Matt Gallo, but at least 3/4 of a bar pissed at me for playing Billy Joel.

Why is there this animosity? Let's look at some facts: Billy Joel is a multi-millionaire in his mid fifties, was married to a super-model, and is battling a substance abuse dependency problem. That's what most American males dream to be, right?

So why the hatred?

Regardless, I really want to know: Does the fact that I like Billy Joel make me a tool? Pleae, tell me.

Maybe you already thought I was a tool...does my liking of Billy Joel further your belief?

Or maybe you used to think I was cool...but now after learning that I care for Billy Joel's music, you too think that I am, in fact, a tool.

Maybe you don't care that I like Billy. Maybe you do, too. It's okay. Admit it. You Up Town Girl, you.

Please feel free to respond.

And try not to think any less of me because of these revelations.

Take it away, Billy...

"A bottle of red...A bottle of white...It all depends upon your appetite..."




11/07/2004
The Only Time Grown Men Should Wear Orange
"Alright Marty, Biff's 'Sports Almanac' says that the University of Illinois will win college basketball's national championship in 2005," says Dr. Emmit Brown. "Now, I don't want you to disrupt the space-time-continuum, but give me some reasons as to why they'll do it."

"Ah, jeez, Doc. I don't really have time for this," Marty replies. "Jennifer's coming over and we're taking the truck out and heading up to the lake and..."

"Oh Jesus, Marty you're so fucking pussy whipped, " says Doc. "Have you noticed how much better my life has been since I dumped Claire, started drinking, and only use my 'time-train' to get civil war era hookers? Now give me some reasons why the Illini are going to kick ass in '04-05!"

"Alright, Doc, but George is gonna be pissed if I miss curfew again..."

The FYC Presents:
Biff Tannen's Futuristic Sports Almanac's Top Five Reasons That The University of Illinois Men's Basketball Team Will Win The 2005 National Championship

1)"I notice you're name tag reads 'Deron Williams.' Could you tell me a little bit about yourself?"

"Well, last year as a sophomore I averaged 14 points, 3.2 rebounds, and 6.2 assists a game, while shooting nearly 40% from three point range. I was our teams top defender last year and I also led the Big Ten in assists. When our team started slowly last year, I had to go ahead and carry them on my shoulders, even after I broke my jaw against those bastards from Maryland-Eastern Shore U. I love playing for Bruce and being an Illini, but I'll probably be a lottery pick next year so this will probably be my last year playing college ball. So, I might as well win a national championship to cap it all off."

2)James Augustine Learns He's Part Black

Since nobody can tell if Augie's black/white/mix/Eskimo (?) I'll just end it all right here and say that he's 3/4 black. So quit having an identity crisis, grow your afro, and get some fucking rebounds.
Seriously, Augustine's play is going to be crucial for the Illini. If he remembers that he's a 6' 10" former quarterback and son of a football coach, his play should reflect. If he thinks to himself "Well, without me Nick Smith would have to start...and that just isn't going to happen...so I can play like crap and nobody will notice," then we're in trouble.

3) Richard McBride Remembers That He's The Best Pure Shooter This Side Of Sean Harrington

This kid is sick. He's one those Illinois High School Basketball Legends, with one exception: He made it to a D-1 program without having to go through a car accident/pregnancy/drug addiction/murder trial.

Maybe he was just nervous through most of last year...whatever it was it needs to be thrown out the window. He HAS to knock down the open three, like he did against Memphis when he buried six of them. He has to be a solid option off the bench if Illinois is going to go all the way.

4) Brian Randle Discovers He's Left Handed

Maybe he's only making this list because he's only the second player from my old high school to make a D-1 team (shout out to the first one to do it...Mitch Gilfilian at Lehigh U.) But he is the Illini's most balanced and most athletic option off the bench. He's an unbelievably athletic player with decent rebounding skills and he can play a solid D. Hopefully his mid-range game has improved...oh, and Brian...You're left-handed! Use it to your advantage!

5)Bruce Weber forgoes all pretentiousness and starts coaching in flannel shirts

Forgive me for being a hypocrite.

I'm sorry Southern Illinois University. I'm sorry that we stole your coach. I know it sucks. I complain when teams steal my coach, too. I'm sorry. With that said: Thank you, SIU.

Thank you for a coach who doesn't like press-conferences. Thank you for a coach who teaches a simple yet effective offense (Motion, a classic) and lets the players decide how a game ends up. Thank you for a coach who doesn't care about how his hair is cut, how his suit looks, or how polished his voice is. Thank you for giving the Illini an actual basketball coach.
____________________________
"Thanks, Marty," says Doc Brown. "Now get your ass in the 'time-train' and lets get us some caveman hookers!"


11/04/2004
On With The Show
What a week. 0 for 2. First the St Louis Cardinals get swept in the World Series and then the Democrats basically get swept in the election. At least my boy Obama won, but when you're running against Alan Keyes, it's really hard not to win. Honestly, nobody likes that guy.

Anyway, it's no longer time to look back in sorrow. It's time to look forward into November. Look forward to that sweet little piece of Americana known as NCAA Men's Basketball. Yes, it's that time of year already. Time to dust off those shooting jackets, pump up those old Reeboks, and start remembering when it's appropriate to start the "Warm Up The Bus!" chant (um, if you're drunk...it's always appropriate! Ha!)

On Sunday I'll bring you a focus feature on my homies up the road in Champaign...YOUR 2005 NCAA NATIONAL CHAMPIONS...THE UNIVERSITY OF ILLINOIS...FIGHTING ILLINI!!! (My God, that's got a ring to it, doesn't it?) But until then, here are five teams which really fascinate the hell out of me:

1) Kansas University Jayhawks

Things are looking good in Lawrence, Kansas. Seniors Wayne Simien, Keith Langford, Aaron Miles, and Michael Lee all return to the fold. Those four have all played in two Final Fours together. If you want a group of experienced players, you could not ask for anything more.

They can score. They can play D. Their coach is a sharp dressed man.

Their coach is also an oppurtunistic egomaniac who over coaches come crunch time and will not let the spotlight fall on the players....it only falls on himself. Because of that, I don't see this team making it past the Elite Eight come March. That's right, because of you Bill Self. You can go to hell. Straight to hell. (There's no bitterness here. Never has been. Never will be. Bill Self is going to hell, thats all.)

2) University of North Carolina Tar Heels

UNC will make the Final Four.

Why?

Four Final Reasons That UNC Will Make The Final Four:

1) Raymond Felton: 11.5 ppg, 7.1 ast, 4.0 reb, 2.1 stl
2) Sean May: 15.2 ppg, 9.8 reb, 1.4 stl, 1.3 blk
3) Rashad McCants: 20.0 ppg, 4.6 reb, 2.2 ast, 1.8 stl
4) Roy Williams: On a mission from god (Dean Smith). Also, everyone named "Roy Williams" seems to be having a stellar year.

3) University of Maryland Terrapins

My lord were they young last year. Gary Williams looked like a pre-school teacher for the first half of the season, but he got his kids in order, finished 7-9 in the ACC, 20-12 overall and had one hell of an ACC Tourney run.

Everyone is back. Everyone is experienced. Everyone is about to kick some ass.

P.S. Don't be surprised if Steve Blake tries to comes back and play for the Terps. Things aren't going so well in the pros and he still looks 20, so why not let him play? If Serge Zwicker got eight years of eligibility at UNC...let Blake back in!

4) University of Texas Longhorns

Te-Has might have the longest string of disapointing seasons this side of Illinois.

Will this be the year they break through? They are extremely young, but their upperclassmen are all steady contributers (not studs though.) Their freshman class is loaded with young, athletic bodies (isn't Texas' preview starting to sound like an add for a late-night Cinemax movie?)

Freshman Aldridge, Atchley, and Williams will all have to contribute if this years Longhorns team is going to make "The Leap."

But chances are, come March, they'll just ruin my bracket like they've been doing the last three years.

5) University of Louisville Cardinals

It's put-up-or-shut-up time for "The Ric-tator." Pitino is a great college coach. We know that. And The UL-KU reborn rivalry is great for a state that, let's face it, has Nappy Roots, a Meth addiction, and good college basketball.

This year's Redbird squad is going to boil down to one thing. What can Francisco Garcia do? College Basketball's Curt Schilling, F-Gar was a trooper last year, putting the Redbirds on his back for win after emotional win.

Can he do it again?

Will Pitino still be worried about Larry Bird walking through his door?

Only time will tell.

That is all for now...enjoy your weekends and check in Sunday for a glimpse at YOUR 2005 NCAA NATIONAL CHAMPIONS...THE UNIVERSITY OF ILLINOIS...FIGHTING ILLINI!!!

Unless of course you don't like College Basketball, in which case; enjoy Canada, you Un-American weirdo!


11/03/2004
Can't I Ever Pick A Winner?
The answer, sadly, is no.

Another four years of Bush, huh? I guess no matter what, we were going to end up with a New England-born, Ivy League educated, old-money president. We're just sticking with the one that has a fake Texan accent (How has nobody caught on to that! He was born in Connecticut, for christsake!)

It's alright, I guess, but it does make me a little nervous. An incumbent President's second term almost always ends up being defined as a four year period of ultra-aggressive policy where that President tries to cement his landscape in American political history (Reagan and fiscal responsibility, ending the Cold War; Clinton and his health care initiative that would have worked if not for those pesky blow jobs he was getting.) The thing that really scares me is: if you thought this administration has been aggressive before...Now that they don't have to worry about being re-elected...fuck.

On another sad note, now that the election has come and gone, Colin Powell will probably be stepping down as Secretary of State in the next few months. Secretary Powell is the one man in the Cabinet that I like (really, he's the only one that I even respect, but hey. Yes, I'm talking to you Tom Ridge. You know what you did.)
After four years under Bush, Colin probably feels as if a large portion of his soul has vanquished his presence. Colin will most probably be replaced by the former Mayor of NYC, Rudy Giuliani. Rudy is a man with very high political aspirations and he'll be a front runner for the GOP ticket in 2008. Since his name will be thrown around for the 2008 campaign, he'll be walking a very tight party line while serving his role...Thus making every Cabinet position ultra-conservative. Great.

So if you were hoping for science to find a cure for whatever disease you or your loved-ones are dying from, start praying, because as long as the GOP controls all three branches of Government, those damn stem-cells aren't going anywhere.

And if your sexual preference is outside of the norm, just move to Europe, because you aren't getting the rights of a straight American any time soon.

Four more years of ridiculous spending, irresponsible tax cuts, and psuedo-nation building. Weren't those some of the hallmarks of bad Democrats in years past? How did these roles get reversed so quickly?

Four more years. Hmmm...Well, maybe something cool will happen. Maybe John McCain will invoke "Law 7, of the Laws of 8" and challenge Bush for leadership of the clan (the clan being America, of course.)

Maybe now that Tom Daschle doesn't have to be the Senate Minority leader anymore, he'll have the time to think to himself and ask "Just who was sending me that anthrax, anyway?" Hell, maybe he'll even solve the fucking case. Inside of my head today, I have been occasionally screaming "HOW THE FUCK DOES THE SENATE PARTY LEADER LOSE THE FUCKING ELECTION? MY GOD, DEMOCRATS ARE BAD AT THIS!"

Oh, well, four more years, huh? What's the worst that could happen, really?