10/31/2004
Happy Halloween
Sincerely,
Jimmy Conners
Greg LaMont
Coach Mike Ditka
Rocky Balboa
& The one-armed drummer from Def Leppard
10/27/2004
After The Boys Of Summer Are Gone
So that's that. A four game sweep. Peronally, I expected a little bit more out of the Hometown Team, but the fact of the matter is we had 3 strengths during the regular season:

1) Timely hitting
2) Clutch pitching
3) Good fundamentals (ie. baserunning, fielding, intangibles, etc.)

You can win without one of the three, when you're lucky you can win without two of the three, but under any and all circumstances you cannot win without any of the three.

We just played four games without any of the three. And we got swept in four games. Surprise, surprise.

I'm not going to dwell on the loss. I'll wear my "Marquis 21" jersey with pride. We had a hell of a run and I could not be prouder. This was the Red Sox Year.

Congrats to Manny, Papi, Curt, Pedey, and the rest of the idiots.

Congrats to the new Sox fans (Josh Ellison, all you destructive, stupid college kids up in Mass.)

Congrats to the lifelong Sox fans.

Congrats to their dads.

Congrats to their dads, who may have lived and died through a lifetime without ever seeing the Sox win it all.

Congrats to everyone up in Mass. Take it easy on that city. It's quite a lovely town. I know it well, and I'd like to see it again.

Was this October anti-climatic for me? Yes.

Would I trade it for anything? No.

A quick postseason wrapup:

The Cardinals teaching the Dodgers what slugging is all about...

Dave Roberts pinch running in game 4 of the ALCS, everybody knows he's going to steal...he's breaking...here's the throw to second...HE'S SAFE!!!

Curt Schilling's Game 6 reducing me to tears

The Red Sox doing the unthinkable

Watching Albert Pujols and Carlos Beltran going toe to toe, slugging it out...NLCS on the line

Jeff Kent winning game 5 on a walkof and...

The NLCS coming back to Busch, Redbirds down 3 to 2...

Not today...

Jim Edmonds extra innings walkoff

Game 7...

The Catch...

Albert Pujols rips a double down the left field line!

Scott Rolen with a deep one to left!

Counting down the outs...

The Saint Louis Cardinals are headed to the World Series for the first time since 1987!!!
______________

I'm not really sure that I'm truely sad about losing tonight.

One of my alltime favorite movies is Above The Rim, and there's a scene where "Flip the Bum" (played eloquently by Bernie Mac) runs into an old high school basketball teammate ("Shep", played by Leon). "Flip" looks "Shep" in the eye and says to him: "They can't erase what we were. They can't erase what we were."

The 2004 National League Champion Saint Louis Cardinals.

"They can't erase what we were. They can't erase what we were"



Is That A Tear In My Beer?
"Are the Saint louis Cardinals trying to lose the World Series?", you ask.

"Maybe," I answer. "Maybe."

"Will they at least try to make it competitive tonight?", you ponder.

"Probably not," I sigh.

While listening to local talk radio after last night's 4-1 laugher (the score doesn't show how far away the Cards were from victory, even though it was only a 4 run deficit most of the game) most people were talking about how if we're going to lose to an American League club, it might as well be the Red Sox.
That is not what you want to hear after a WS game 3.
Your team. Basically conceding game 4 and handing the title to the Junior Circuit. Sweet.
I have no real comments about how the Birds have been playing. Their actions speak louder than words ever could.
The word "Suppan" is now relative to doing something so stupid that it leaves spectators mouths open. As in "Dude, you pulled a major Suppan by not taking that chick home last night! What were you thinking?"

I had a decent little debate with a Cubs fan today in school. He said that if he had to choose between:
A) Losing in the World Series or

B) Not making it at all

He'd rather take B, not make it at all (what a typical cubs fan!)

I counteract by describing the difference between:
1) Last year's Cubs NLCS loss, when most of my Cub-fan friends were either catatonic or suicidal and

2) This year's NLCS Cardinals win, when the city of St Louis was drunk, jubliant, and in some cases, rather horny.

I'll take the St Louis option every chance I get.

Like Jason Lee says in Vanilla Sky "Without the bitter, the sweet don't taste so good."


10/25/2004
Going Home, Down 2 to 0
Two games to none. Not exactly the situation that I want to be in, but with the way that the Cardinals played over the weekend, there really is no alternative, now is there?

I'm not sure that the Red Sox won Saturday night's game as much as the Cardinals lost it. Throw in Sunday's abysmal pitching performance by the Birds...well, shit we need to get back to Busch. We need to get back to Busch, fast.

When the opposing team commits eight errors over two games and you don't win either of the two, that is totally inexcusable. The only good news about The Series is that it's headed back to Busch where the Cards are undefeated this post season.

This is one of the most polite world championships I have ever seen. Both clubs respect the hell out of each other (and in the same boat; Red Sox Nation has love for Cardinals Nation and vice-versa.) There is absolutely no real animosity. It's almost like the prevailing theme of this Series is "May the best team win." I can't recall the last time a world championship was this cordial (Conclusion- Everybody is happy that the Yankees are watching this one from home.)

Jeff Suppan is tossing junk-balls tomorrow against Pedro. Normally, that line would make me throw up a little, but Supp did take down Clemens in NLCS game seven. Fuck, anything is possible.

Anything. Is. Possible.


10/23/2004
The Day Before
Read that headline.

Let it sink in...

wait for it...

wait for it...

NOW!

It's the day before the Saint Louis Cardinals play in the World Series for the first time in many of our adult lives.

Every kid at school today was still drunk. Nobody in our generation here in the STL have had a need to celebrate like we did last night. But we did, and we did.

Pins and needles. That is the only way I can describe the STL right now. On pins and needles. A lot of people were nervous before and during the NLCS. It doesn't feel that way now.

Cardinal Nation is excited, not nervous. Excited for a world championship. Excited to celebrate like we have never celebrated before.

Tonight, I ended up at the President Casino and I walked in knowing "I will not lose tonight." Thirty minutes later, after I was down $200...naturally, I went to the bar to drown my sorrows. I walked back to the tables later to see how my roomate Andy was doing at the roulette wheel and I thought to myself, right then and there "I'm betting on black!" (Damn you Wesley Snipes for planting that idea in my head!) I pulled the last $40 out of my wallet and put it on black. Five minutes later I was up $300.

Nobody loses in St. Louis. Not in October.

Today will be forever known as "The Day Before." Contrast that with what the Red Sox Nation calls "The Day After." What, are you just happy to be here? There is another series to win. The World Series.

At the casino tonight there was a kid wearing a Red Sox T-Shirt. Under any other circumstances I would have gone over to him, exchanged hi-fives and pleasantries and we would have bought each other beers. Instead I just galnced at his shirt, knowing that what his shirt represents is what's standing in the way of a Cardinals World Championship. I also noticed that every other person who saw this kid looked at him vengefully.

Another observation from the roulette wheel: I have never seen so many bets placed on 33, 5, 27, and 15 (The numbers of Larry Walker, Alber Pujols, Scotty "Ballgame" Rolen, and Jim Edmonds, respectively.)

Yeah, you could say that this is a baseball town.

10/22/2004
Why I Do What I Do
Allright, here's the scene:

You have Roger Clemens going up against Jeff Suppan in Game 7 of the NLCS. Winner take all and you can only take one thrower. It's the Rocket, right? Without a beat, it's the Rocket, right?

Not tonight. Not after the Cardinal Nation had been pumped up like a college homecoming football game. The line..."where darryl kile pitched his last game" woke up our echoes. Cardinal Nation...welcome to the national spotlight.

Supp pitched a gem and the bullpen carried him through. Julian Tavarez...you are a mother-fucking weirdo...God Bless You.

I watched the game at a sports bar in the STL, every pitch was live and die. I went temporarily deaf when Pujols doubled and I lost my hearing for at least two minutes after Scotty Ballgame's homerun.

This city is alot like me...it doesnt have alot going for itself right now (I've got baseball and a good GPA...the latter is probably about to change) We are basically living and dieing on every pitch. When the Cards got the final out, a Rodney Dangerfield look-a-like stood up and yelled "WERE ALL GONNA GET LAID!!!"

I have never been as drained as I am right now.

I followed up last night's classic Jim Edmonds Home Run and The Greatest Comback In Sports History with a conversation with my ex-girlfriend (whom, I dont miss per se, but we did have one of the greatest war time relationships ever, so how can you not miss that) where she complained about how boring her boyfriend is. Sweetie, I'm not your mother-fucking manicurist, I'm the guy who used to have sex with you, I don't want to hear about your relationship problems.

By the time bedtime struck yesterday, I just started crying and waited to fall asleep.

In the last four days I have ran a guantlet of emotions that should never be touched...Wednsday morning I woke up crying after thinking about how much of a trooper Curt Schilling is...I am positive that I will be crying when the alarm goes off tomorrow at 8 (how could I not be...WE MADE IT BABY!!! WE FUCKING MADE IT!!!)

I have not eaten in the last 60 hours...how the fuck could I?

And now Scotty Ballgame hits the biggest homerun in Cardinal Nation's shorterm memory.

I'm shaking as I type this.

I hate to be the team that beats the Red Sox...but you know what?

Fuck the mother-fucking Boston Red Sox

It's the two best baseball towns in America going head-to-head.

And Cardinal Natioin will not lose.

Not this year.

Not on the field where a beloved old man in a bright red jacket told a mournful nation why it was good and right to play baseball after Sept. 11.

Not today. Not this year.

10/20/2004
Game Seven, Baby, Game Seven
This is not my original work...but it is damn good.

NOT TODAY

Busch Stadium is not our house.

So I will not waste your time this morning talking about the importance of the Cardinals protecting our house in Game 7 of the NLCS.

I will not broach the obscenity of seeing Houston players spilling champagne on our living-room carpet.
Busch Stadium is not our house.

It's much more important than that.

It's where many of us watched our first game, caught our first foul ball, begged for our first autograph.

It's where Gibby ruled the mound, where Brock ran like the wind, and where Ozzie made all the folks go crazy.

It's where the El Birdos dominated, where Sutter struck out the last batter of 1982, where Mike Shannon has worked since the joint opened in 1966.

The Ol' Redhead managed there. Stan the Man played his harmonica there. The White Rat led us back to glory there.

This is where Gussie drove the Clydesdales, where Willie McGee tracked down fly balls, where Joaquin Andujar summed up his philosophy of life in one simple word: Youneverknow.

This is where Big Mac smacked No. 70, where Tommy Lawless flipped his bat, where GOOD GOD ALMIGHTY...BRUMMER'S STEALING HOME!!!!!!!

This is where the greatest St. Louis team in Busch Stadium's history performed. That's right, the 2004 Cardinals. They had the best home-record, the best record in baseball. Right on that field.

Ted Simmons played there. Kenny Boyer managed there.

And a beloved old man in a bright red jacket told a mournful nation why it was good and right to play baseball after Sept. 11.

My friends, Jack Buck's coffin rested on that field. Daryl Kile pitched his last game there. And many of cannot walk into that stadium without thinking of loved ones who are no longer with us.

Not today.

We don't lose today.

Not against the Houston Astros.

Not even against the myth that is Roger Clemens.

Not against a wild-card team.

Not in Busch Stadium.

No, it's not our house.

It's simply the place where our memories congregate, where our baseball dreams are stored, where the voices of millions of fans and the ghosts of seasons past await their call to arms.

Folks, it's time to wake 'em up.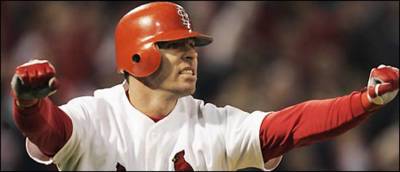 When you hit walk off home runs in the playoffs...Nobody cares that you wear Brittney Spears-esque belly shirts.
Correspondences
I'm not especially sure about what to say about tonights win. Jim Edmonds get alot of shit in this town about his (ahem) lifestyle ...but he just got a free pass on the "do-whatever-the-fuck-you-want-to-because-you-hit-the-game-winning-walk-off-home-run-in-extra-innings-in-game-six-of-a-must-win-NLCS-and-you-picked-up-an-entire-city-onto-your-shoulders bus." Enjoy the ride JimE...you deserve it

To help emphasize how much baseball means to America right now and how unbelievable this post season has been (for the second year in a row, mind you):Here is an e-mail from my buddy Josh. Josh is in Iraq right now, following baseball games like a drunk 22 year old living in Boston.

Well played, Josh, well played.



From Josh:

Al,
First of all, congrats on the w tonight. Second, did you see that mutherfucking grand slam by
the guy with the worst batting average this series? Johnny Damon coming on strong,
what a fucking whack.
I can't believe myeyes. I am shaking. I can barely type. My head is gonna explode. WOW.

Only in October. This is out-fucking-rageous. I love this fucking game. I love you October.

Josh

My reply:

I dont even know what to say anymore.

Jim Edmonds!!!

Johnny D!!!

If the red sox lose this game....

If the Cardinals lose tomorrow...

Tomorrow. Manana. Tomorrow. I prefer manana.

Manana is huge. Manana is hopes and dreams of a city and region and that of a nation within a nation (cardinals nation...here's your passport. welcome.)

You know what? Fuck it! Here's for tonight...right now...
Boston Red Sox...shutting up the fucking House That Ruth Built.

But still...manana


Curt Schilling, You're My Hero
I am a wreck.
I am a walking corpse.
My blood pressure is up.
I am drinking like a sailor in Tiajuana.
I woke up at 5 am this morning crying.
I am a shell of a man.
God, I love October.
I woke up this moring to find an e-mail from my liver:
To : alxfritz@budweiser.com
From : your liver
Re: OW!
Alex, I realize that it is the playoffs, but could you
cut down on the drinking a little bit. I'm putting in overtime
but I get paid a set salary. I gotta get home and see the wife
(by the way, kidney is doing great). I just hope that there's
an off day sometime soon.
Signed,
Liver
P.S. Your heart is about to explode.
Last night, Curt Schilling took me to a level that I have not been at since Brett Farve turned on the goosebump machine last December on Monday Night Football. From the bottom of the first inning, when Curt came to the mound with (and I can not emphasize this enough)
blood soaking through his right sock from his dislocated tendon
you had to know that this was going to be big.
Jordan big.
Clemens big.
Start a new chapter in a history book big.
99 pitches. On a severed tendon.
If you don't think that is clutch, go outside, stab your self in the ankle with a flathead screwdriver and try to throw a baseball. Now do that 99 times. Against the
mother fucking
New York Yankees.
Last night was unreal. I'm not sure why I am even trying to describe it.
Maybe it is because I have lost the majority of my communication skills. I now have to rely on typing.
Great.
I have been shaking for three days now, and it all leads up to today.
Game six of the NLCS. Game seven of the ALCS.
My two teams. Two elimination games. This is drama.
The Cardinals have their asses up against a brick wall of momentum named the Houston Astros.
The Red Sox pitching staff has run so thin that Theo Epstein called me on my celly to see if I was available to come out of the bullpen tonight (I had to turn him down -- college eligibility issues).
We'll see how it goes.
Here's to your health.
You Can't Script October.
10/12/2004
Congratulations Everybody!
While still waiting for my first GI Bill payment (Damn you, Washington fat cats!) I decided maybe I should get a job. While narrowing down my job search, I asked myself some questions:
1) What do I enjoy in life?
A: Vodka, Wine, Girls, Sandwiches
2) How much responsibilities do I really want right now?
A: Not bloody much
3) What is more important: Being punctual, well organized, and courteous....
or
being hungover after watching the Cardinals win playoff baseball games?
A: No contest: Hungover in a landslide
4) Well then, asshole, where should you work?
A: A deli!
That's how it came to be that Al Fritz now slings sandies for a living down at Blues City Deli (
http://www.bluescitydeli.com
) It's a decent gig that pays well, my boss is great, and I won't be paying for food again anytime soon. Last Saturday, I made a Sicilian (the sandwich, not the person) for hockey star Brett Hull. Shit, he's got nothing better to do right now than to eat sandies.
Something on my mind: will the sports world please quit pretending that the death of Ken Caminitti was shocking. This guy did more steroids and blow than any person could take. I think his heart actually quit working April 12, 1997 but his body had been running on testosterone and coke since then.
Anyhoo...tomorrow is the start of the NLCS and the Hometown Team is taking on the Astros. Since I've got a midterm tomorrow morning I'm not drinking tonight, which may or may not account for the fact that the Red Sox are down 8-0 to the Yanks right now. However, I will be getting super intoxicated tomorrow night as I cheer the Cards to victory.
Go Redbirds.
10/08/2004
10/05/2004