8/31/2004
Conversations From Bars
Saturday night found me at a little place called Harpo's in Chesterfield, MO. After serenading a buxom young lady to Elton John's "Your Song", I ran into Ram's rookie running back Steven Jackson. The conversation went alot like this:

Me: STEVEN!
Steven: (hi-five)
Me: Nice touchdown last night, man. I didnt think you were that fast to the outside.
Steven: Um, thanks...what's that supposed to mean anyway?
Me: I thought you just bowled over mothers.
Steven: (swigs he beer)
Me: Well, I'm a Packers fan...but I wish you the best of luck.
Steven: Um, thanks.

It's always fun to confuse giant football players. Steven Jackson was the size of an Escalade, just Fucking enormous. And he's a mother-fucking running back. Aren't they supposed to be the small ones? More later...



8/27/2004
Fun With School
One week of school is complete, and I did not miss a single class. A few highlights of the week:

- While discussing possible topics to give a speech on in my public speaking class, the aforementioned extremely foreign man said (in rather broken English) "Why your country no allows polygamy."
- If you drive around a college campus blasting your local "Oldies" station, you will get some strange glances. Frankie Valli's "Can't Take My Eyes Off Of You" probably gathered the most favorable responses from the youngsters.
- Smoking is extremely cool (and popular!) with college kids. I'm contemplating starting back up.
- I had forgotten what a big deal it was for someone to be 21 years old. I'm concerned some of these guys may take their lives when they realize how anti-climatic that birthday really is.
- Guy #1 Who Needs To Be Strangled: to quote "Our imperialistic government needs to realize that not every country needs a democracy just like ours. We're just creating puppet regimes to serve our self interests."
- Followed up by Chick #1 Who Needs To Be Strangled: "At least its not being done by our government behind some sort of smokescreen to overthrow a legitimate government in Latin America, which happens on a regular basis."
- Followed up by me: "This is a geography class, kids. Pipe down."
- I used to think I might enjoy studying philosophy...but when our professor, Skip (yeah, Skip) asked himself "Maybe this desk isn't really here and we're all just dreaming together that it is" and then took a few moments of quiet time to think about it...man, I really needed a beer.

On a brighter note, the chicks are still hot.



8/23/2004
It Had To End One Day
The Summer of Al (TSOA) has officially come to a close. Today was the first day of school over at Southern Illinois University Edwardsville and I was up and at 'em at 7:15 this morning. A rather large departure from the last month of rolling out of bed at noon, playing Playstation and listening to talk radio. I'd be lying if I said I'm not going to miss TSOA. After all, it did encompass:

-Being discharged (Honorably, I might add) from the Marines
-Giving the keys to my broken down '93 LeBaron to a hillbilly somewhere in the hills of West Virginia
-Pretending I was Steve Martin in Planes, Trains, and Automobiles and blowing $1000 and two days worth of time on renting cars to finally make it to Illinois from West Virginia (If only I had pretended to be his character in Dirty Rotten Scoundrels, I might have never have had to work again.)
-An awesome get away with the dudes to Indiana
-Purchasing my first reliable car
-Setting a world's record by casting 138 fishing rods into my parents lake and not getting A single bite.
-Moving to St. Louis
-Married Ashlee Simpson; although it was quickly annuled and she will deny it ever happened, I have a soiled pair of boxer-briefs to re-but her statements.
-Becoming a certified Sushi Chef
-Being drunk an awful, awful lot

If today's day at school provided any indication of the rest of the year, well...let's just say it's not all bad. After all, there is an extremely foreign man who speaks very limited English in my Public Speech class (thus virtually guaranteeing that I won't be the worst speaker in the class.)
And, as an added bonus, these skirts that the girls are wearing these days are unbelievably short. More to follow...

Also, I bid a fond farewell to Daryl Neill, Josh Ellison, Joe Sanchez, and the rest of my former co-workers as they head back over to Iraq this week. Good luck, fellas...I'll send you some booze.


8/18/2004
Bear Guzzles 36 Beers, Passes Out
Just a solid, quality article. Thanks cnn.com - we can always trust you for real news. By the way, what in the world is wrong with Busch beer? Is it now a laughingstock of a beer? Why wasn't I informed? Oh wait...i was.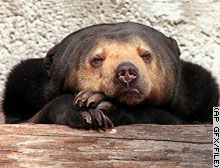 Somebody Needs A Bloody
SEATTLE, Washington (Reuters) -- A black bear was found passed out at a campground in Washington state recently after guzzling down three dozen cans of a local beer, a campground worker said on Wednesday.
"We noticed a bear sleeping on the common lawn and wondered what was going on until we discovered that there were a lot of beer cans lying around," said Lisa Broxson, a worker at the Baker Lake Resort, 80 miles (129 km) northeast of Seattle.
The hard-drinking bear, estimated to be about two years old, broke into campers' coolers and, using his claws and teeth to open the cans, swilled down the suds.
It turns out the bear was a bit of a beer sophisticate. He tried a mass-market Busch beer, but switched to Rainier Beer, a local ale, and stuck with it for his drinking binge.
8/17/2004
This Is Starting to Get Fun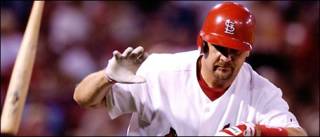 Larry Walker Caps Off A Six-Run Cardinal's Eighth
Inning With A Grand Slam, To Give
The 'Birds A 7-2
Victory Over The
Cincinnati Reds, On A Downtown Tuesday night
After tonight's come from behind win, the St Louis Cardinals now have a major league leading 78-40 record.
It's starting to get a little ridiculous here in the the StL...it's as if this ballclub, much like Parker Lewis, just can't lose.
The absurdity really started to set in for me, when in late June, my buddies and I went to my family's lake house in Indiana.
It was myself and six Cubs fans gathered for a weekend of fishing, grilling and talking smack. But, as they got set to watch their precious Cubbies and gathered nervously around the TV, only to see the Little Bears lose one to the Cardinals and drop two of three to the South Side White Sox...I was able to relax carefree, for even though we could not pick up Fox Sports Midwest, I was fairly certain the Cardinals would not lose.
They didn't.
They beat the Cubs on Thursday and swept the Royals over the weekend.
Since that weekend, in late June, the Redbirds have gone a remarkable 32-11, to go 15 games up over the Cubs in the National League Central.
My roommate, Matt, has developed a back-of-the-mind syndrome, which I had a few weeks ago, thinking back to that 2001 Seattle ballclub, who won all those games, but came up lame in the playoffs.
I lost that fear a few nights ago when I noticed how well the Cardinals matched-up against the Braves and the Dodgers. Every position to position match-up has the Cardinals with at least a 7 man advantage in the field, even with starting pitching, and ahead as far as bullpens are concerned (granted, Izzy is no Gagne nor Smoltz...but neither Atlanta's, nor L.A.'s bullpen could hold the Cards long enough to get to the closer.)
This team reminds me more of the '98 Yankee's, who steamrolled their way to a World Series Title. Just so long as Ray Lankford doesn't have to play the role of Darryl Strawberry and get cancer.
This is my first summer actually living in the Lou, so maybe I'm a little naive on how this city feels during the pennant run.
I was too young to remember the crown in '82, I remember '85 and '87, but not well enough to write a dissertation on either of them.
I was down here in '96 and the place was
maybe
half as electric as it is right now. Maybe the 'Birds were out of town that week (they were NOT, fyi.)
I was here for every playoff game in 2000. It was fun beating up the Braves, cheering for Will Clark, and watching Rick Ankiel throw away his career, but when the NLCS came up, we were over-matched by the Mucking Fets.
Thanks to the terrorists, I was not able to catch firsthand the Birds losing to the Diamondbacks in '01...I do remember watching it at a bar in Pensacola, Fl, thinking to myself that the best team had won, unfortunately.
The 2002 season, I thought, should have been the year for St. Louis. After the double stomach punch that was Jack Buck and Darryl Kile both passing away over the summer, I thought a little Karma payback was in order. But, after beating Arizona in the NLDS, we were again overmatched, albeit this time by the Giants of San Fran.
I sincerely do hope this is fate. Anyone who knows me well enough, knows that a big part of me deciding to go to school outside of St. Louis was decided by the fact that the Cardinals play here.
Lately, a few times a day, I stop and think about how great this team is and what they're capable of doing come October, and for those few moments...
well, welcome to goosebumpville, population, me.
A Headache Of Olympic Proportions
No...Iverson...Don't...Shoot...oh, crap...
Sunday's loss to Puerto Rico is still lingering in the back of my mind. It doesn't help that the
Wet Dream Team
just snuck by a Greek team who had George Papadapolos from
Webster
playing power forward. I am a fan of basketball, one of 217 Americans who still have a rudimentary understanding of the game. Watching this collection of B-list NBA talent play in Athens has now left me with a facial cringe which may take a few days to go away. When our best "outside shooter", the highly overrated Richard Jefferson, is too concerned about what to yell after his next dunk- that he can't even square his shoulders with the basket before shooting a trey- then our team is in big, big trouble.
This is not the player's fault. Although most of them look like they're trying to duplicate the play of Michael J. Fox in
Teen Wolf,
they play the way that they have been playing all their lives. The American's who would make the best international players either did not want to go to Athens, for whatever reason (Jason Kidd, Michael Redd, Mike Bibby) or were not invited (Brent Barry, Fred Hoiberg, myself.) The selection process simply must be changed when picking the next Olympic team, remembering that the 2008 Olympics will be held in Beijing, not at Rucker Park.
Alas, how the Americans could lose to Puerto Rico bothers me for only one real reason. Puerto Rico is part of the US. I'm fairly certain that they're citizens, too (I might be wrong about that, though.) Either way, if P.R. gets a team than they're is no reason (NO FUCKING REASON) that Illinois shouldn't have their own team. A team from Illinois (Kevin Garnett, Darius Miles, Quentin Richardson, Corey Magette, Michael Finley, Brian Cook, Frank Williams, Al Fritz, etc) would not only beat the likes of Puerto Rico, they'd probably beat the USA, too.
P.S. - Allen Iverson, you went to Georgetown...start sounding like it, please.
It's Been a Feelin' Alright Weekend
In case anyone has been wondering why I haven't had too much to say lately, well... I've just been feelin' alright the last few days. My buddy Matt drove down to the StL from Chicago for some recruitment over the weekend and his wingman, Vince, came down from the Twin Cities.
The roomates and I are very interested in getting Matt to move down here at the end of the month. In recruitment standards that would blow away James Caan's in
The Program
, we took Matt out for a wild weekend of cold beers and loose morals. As expected, stupidity won in straight sets.
Friday night involved 60 cans of Busch, a blues band, some 19 year old girls, and a few dozen city ordances being broken both in our house and on our back porch between the hours of 2 am and 5 am.
After a late Friday night, we decided to take it easy on Saturday. We lounged around until about 2 pm (when poor Andy finally came home from work) and we headed to the local tavern for some wings and bloody marys. Five hours later, when we left the bar, we were all well on our way to being (technically speaking) fucking wasted. We got back to the house, threw some burgers on the grill, cracked open a few Busch heavies, showered up, and headed down the street to see a great little band named "Dangerous Kitchen."
From that point, there are a few scenes which might be somewhere on the cutting room floor, because I just can't recall what happened.
The highlight of the weekend: Nobody being arrested
2nd place highlight: A dance off while "Dangerous Kitchen" played, which John Lithgow's
Footloose
character, the Rev. Shaw Moore, surely would have disaproved of.
Matt wonders how to get to the
back porch
8/16/2004
Reader's Rant
From William McKinney, star of the hit television show Elimidate, concerning the US Olympic basketball team's 92 - 73 loss to Puerto Rico, on the same day that Iraq's soccer team was defeating Costa Rica:
"I am claiming the Iraqi soccer team, the Puerto Rican basketball team, and any other country that we support financially as an American team. Since we have to solve their problems, we should get credit for anything good they do, at least until they can fix their own fucking country."
For the record, Will is still pissed about recognizing the right midfielder on Iraq's soccer team as the guy who swindled him out of a copy of "High Society" in An Nasiriyah.


8/15/2004
Josh Ellison's Drink of the Week
Hello everyone...I'm fresh out of six hours worth of alcohol rehab and I thought I would warn you about the dangers of drinking, yeah fucking right. I am going to give you some drinkage to sip on.
As we all know that The Superfreak, our old boy Rick James, has passed. In honor of his life I propose a moment of silence upon reading this.

Here is a drink in his memory:
The Rick
-1/2 oz Sambuca
-1/2 oz Orange juice, fresh
Mixing instructions: First, you must pour the Sambuca in your shot glass and then slowly pour the orange juice.
You may now enjoy Rick's fruity taste!


8/11/2004
Extra Innings
This is a follow up post to my "7 Quick thoughts" on Goodfellas ...it's just too good (and long) of a movie for only 7 thoughts. Here goes...

Thank you Billy Batts for bringing the word "shinebox" to the American venacular. If this country needed anything, it was a term like "Now, go get your fucking shinebox!"

God bless the old Italian lady who played Tommy's mom...and every other Italian guy's mom in every other mob movie made in between 1976 and 1992. Extra kudo's for her playing Sophia's cousin Marie in a 1989 episode of Golden Girls.

Peace out homies...Yard work beckons


Pre-Empted
Sorry about not posting for a few days but I had a rather big weekend....Between masturbating to the fact that the Cardinals had just acquired Larry Walker on Friday night and discussing whether or not Anderson Hunt Of the '89-'90 UNLV Runnin' Rebels had the greatest flat-top in NCAA history on Saturday...I acted as the Godfather at my niece Lucy's baptism on Sunday...and then earlier today I took a course to make me a certified sushi chef...Jesus what a whirlwind of four days. I'm set to watch a few flicks and games tomorrow...so seven quick thoughts are definitely coming...LATERS!


8/06/2004
RIP Ronnie Van Zant
If you have ever met me, you know that two of my biggest passions are Lynyrd Skynyrd and Busch beer. And when the good folks at The Brewery Down The Street put the two together with the "Simple Man" campaign a few years back, well, it was just heaven on earth. Last night's Cardinal game brought me this gem:

cue "Simple Man" intro...
cue voice over:
"They're not called average...
and they're not called so-so...
No, it's not even okay...
They're called...
The GREAT outdoors."
AND BE A SIMPLE KIND OF MAN!

Genius, genius, genius.




The Saddest Day of My Life
August 6th will no longer be the day after my birthday. It is now the day the music died.Funk legend Rick James, who once uttered the famous quote "FUCK YOUR COUCH!", for which this website is named after, has passed away at the age of 56.
Schockingly, he died of reported "natural" causes. Are you kidding me? Superfreak never did a natural thing in his entire life. NATURAL CAUSES! FUCK THAT! When Rick James dies, it's supposed to be an all out affair, I'm talking Goodyear Blimp, baby! Give me eight hookers, six pounds of blow, and a card game gone wrong! I want Cory Feldman at the party when Rick James dies!
Natural causes. This sucks.
http://apnews.myway.com/article/20040806/D849TMIO0.html
8/05/2004
Seven Quick Thoughts
I am not sure if you are aware of the magic that is the number Seven, but it is the pinnacle of the numbers one through ten. Ask George Costanza. He can be reached at (423) 309-9327....SO without further ado...Seven Quick Thoughts After Watching
Goodfellas
this afternoon.
If I ever date a girl named Karen, she will be told, at least once a day that "Nobody's going to jail Karen!"
That freaking wop who played "Carbone"...Best acting job by an Italian....EVER!
There is no way Paulie and his fat fucking fingers could have sliced garlic with a razor blade. Have you ever tried this? It cannot be done, especially if you're a fat fucking dego.
Has there ever been a worse argument than Lori not flying without her lucky hat? I am not a mobster, nor have I ever pretended to be one, and even I would have told Lori to "Shut the fuck up and get on that goddamn airplane!"
Henry Hill, have you no balls, sir?
Spider, buddy, I love you to death and you DEFINITELY have got some spunk, but why would you tell Tommy to "Go fuck yourself?" I know he shot you in the foot and everything, but you never, never ever-ever-ever-ever-ever tell a Joe Pesci character to go fuck himself. I am more than fairly certain that if Maculy Caulkin would have told Pesci to go fuck himself in the first
Home Alone
that there would NOT have been a sequal.
Jimmy might have been Bob DeNiro's weakest character this side of
Analyze That
. At least in
This Boy's Life
he repeatedly beat the shit out of Leo DiCaprio. Trying to off Karen Hill with empty promises of nice dresses located in a shady brick store? For shame Bobby. For shame. You, sir, make me ill.
If prison life holds as much booze, lobsters, and Pall Malls as
Goodfellas
depicts that it does....To quote
don't be a Menace to South Central
..."Lock me up....And throw away the key!"
Any and all feedback WILL be sent to
alxfritz@gmail.com
Now, if you'll excuse me, John Mabry's at my door, he wants to borrow a cup of sugar....gotta go.
FUCK YOUR COUCH!
Sammy Sosa is Down at the Hop
In a startling find, espn.com has brought to my attention that Sammy Sosa will only come to bat if one of two songs is played. If you can name the two, turn your computer off and go back to your closet, you raging homosexual. Everybody else...Hold on to your knickers and check out this website. And yes the following line is a slap to the face of Cardinal fans everywhere.
Player Song Artist
OF
Jim Edmonds
"Tipsy" J-Kwon
http://sports.espn.go.com/espn/page3/story?page=atbatsongs/index