8/25/2008
Our Pooch, In The Park
Sunday was the annual Purina Pooches in the Ballpark game down at Busch Stadium, so The Wife and I decided to take Yadi down to the old ballpark.
It's a pretty awesome promotion: They let you walk your dog around the field pre-game, and have the outfield all inclusive areas reserved for the dogs and their owners.
Here is Yadi getting ready to take the field.
Here he is walking by the bullpen, right after seeing Braves lefty Will Ohman who was nice enough to be posing for pictures with random dogs. The Wife asked if I wanted to get a picture with me, Yadi, and Will Ohman, but considering Will Ohman sucks, I did not.
After the initial confusion of "Whatthefuckisgoingonaroundhere?!?!" and excitement by the dog population overall, the dogs realized they had a few hundred feet of nothing but people wanting to lean over the sidewalls and pet them.
I'm pretty sure in his mind, Yadi though that a few thousand people just howed up to pet him. He fancies himself a bit of a celebrity now.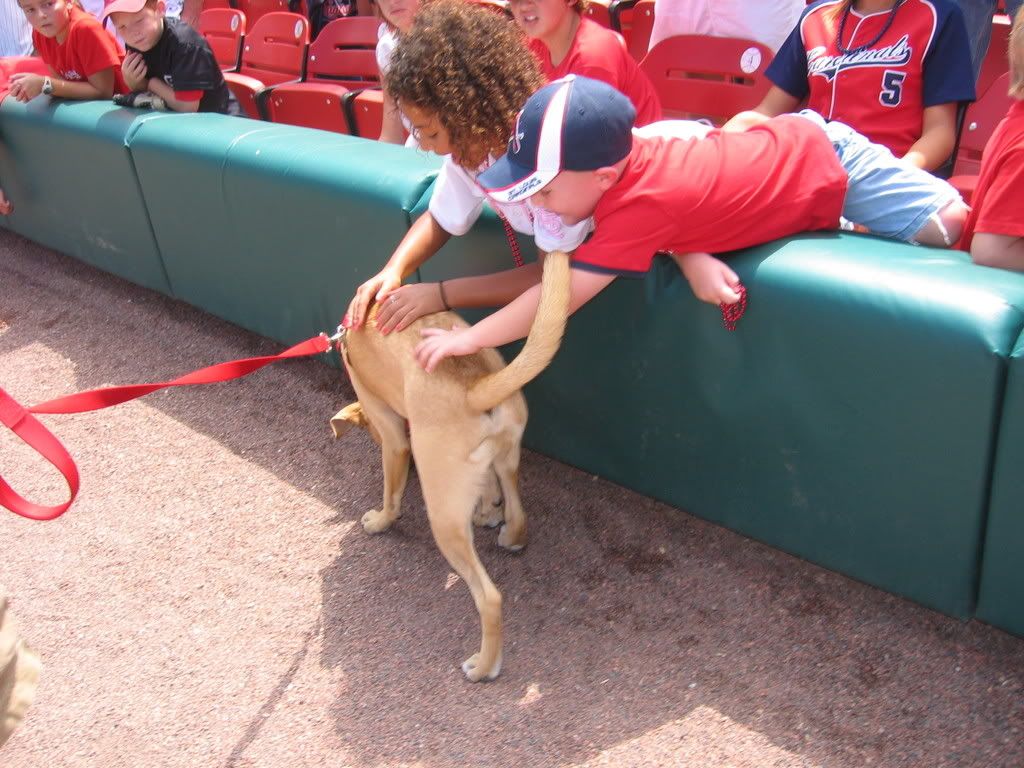 Speaking of celebrities, it's TV and Radio's Jimmy "The Cat" Hayes, who was kind enough to strike a pose with Yadi. After apparently taking a few bong rips.
Out in
Time Traveling Juan Encarnacion's
old outfield corner, a chubby man and his dog:
Possible Christmas card? Yep, we're that lame.
Our seats were right next to the centerfield camera, whose operator was a much more patient man than myself and didn't mind yadi trying to take over his camera duties.
Fortunately, there was only one "dog incident" all game messing with his shot.

I was pretty amazed how well behaved a hundred some odd dogs could be in one space, but there was not an incident to be seen. If only people could behave so well. Plus, the Cards won.

And it was the best day of Yadi's life (he's been asleep since we got home yesterday around 5.)
All of this excitement came after an evening of playing with Mr and Mrs Husbands new tiny, tiny animal
Kona
, so Yadi, who is in fact the laziest eight month old puppy in Missouri and generally sleeps sixteen hours a day, may or may not be dead right now.
He hasn't left the couch in hours.
Labels: Dog updates?, Is Jim Hayes High?, Little Yadier Molina Fritz Esq, Will Ohman Sucks